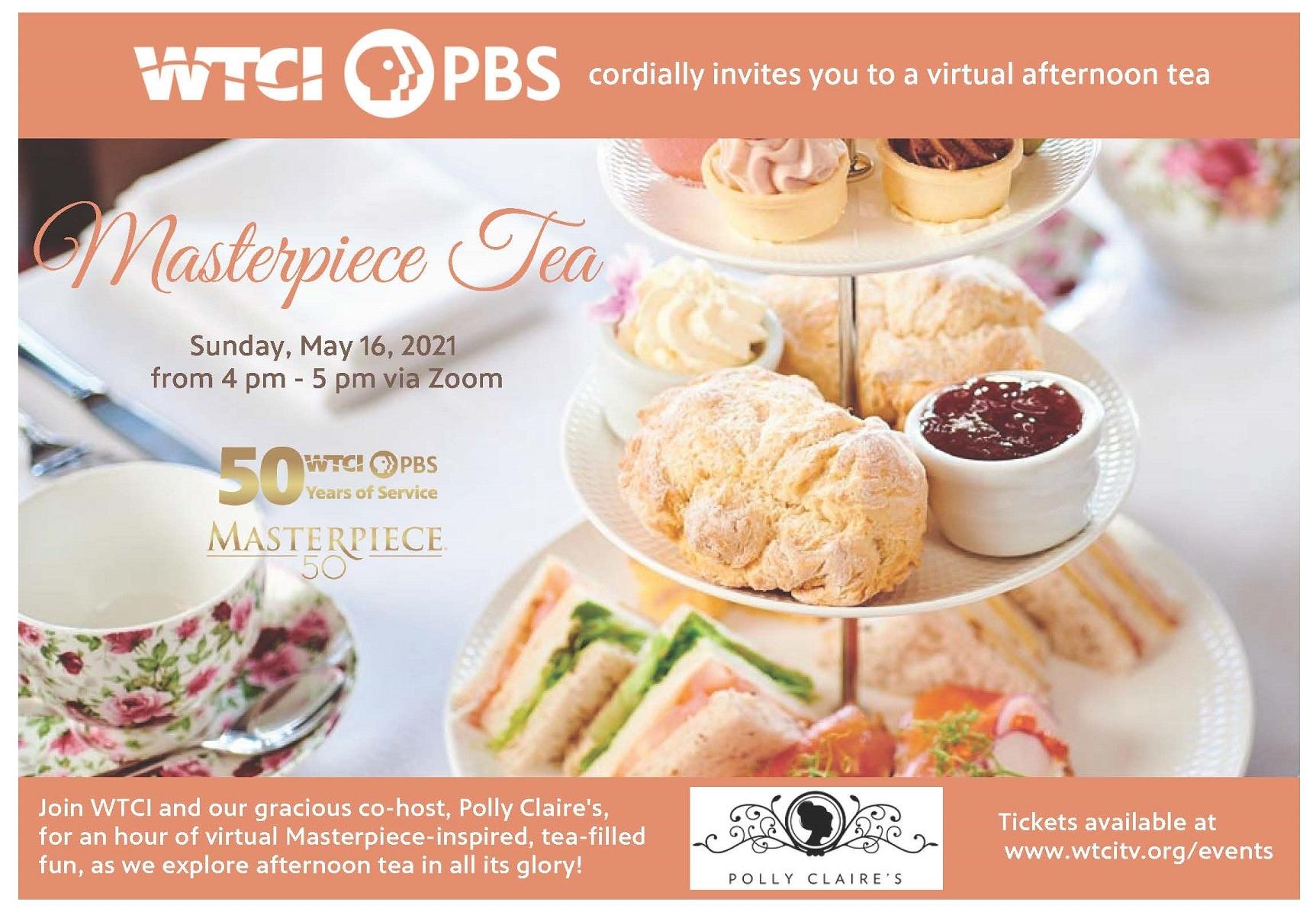 Join WTCI and our gracious co-host, Rashelle Stafford, owner of Polly Claire's, for an hour of virtual Masterpiece-inspired tea-filled fun, as we explore afternoon tea in all its glory! The event celebrates the 50th anniversary of both PBS Masterpiece and WTCI.
WTCI's Masterpiece Tea is a one-hour Zoom event that promises to be both informative and fun! Learn about the finer points of tea selection and brewing, join us as we delve into tea history and etiquette, and finally, follow along as we're taught how to make the perfect crumpet!
Our tea event will also include trivia questions and a tea hat contest, so be sure to brush up on your Masterpiece knowledge and don your best teatime attire! Easter hats, Sunday hats, and everything in between are encouraged! Prizes will be awarded!
Zoom login information for the event will be emailed to guests on Tuesday, May 11. Tea boxes can be delivered or picked up between May 13-15.
Guests will be individually contacted regarding delivery and pick-up days, times, and procedures. The pick-up location is the WTCI station: 7540 Bonnyshire Drive, Chattanooga, TN 37416.
Please note that tea box deliveries can be made to households or businesses in the Greater Chattanooga area only, including the following zip codes: 37402; 37403; 37404; 37405; 37406; 37408; 37409; 37410; 37411; 37412; 37416; 37419; 37421; 37302; 37311; 37312; 37341; 37351; 37353; 37363; 37377; and N. Georgia: 30736 and 30720.
Special thanks to our event sponsors:
Admission prices and lists of items included in each tea box are outlined below.
BECOME A MASTERPIECE TEA EVENT SPONSOR TODAY!
WTCI welcomes you to become a Masterpiece Tea event sponsor! Sponsorships are a wonderful way to promote your business in the community while supporting a very worthy cause at the same time! Please read through our Sponsorship Opportunities document to see which level is right for you or your business! Click HERE to download the document.
For questions about event sponsorship, please contact Marianne Monoc, Senior Director of Development, at 423-702-7808 or via email at mmonoc@wtcitv.org.